**HALT-IT TRIAL RESULTS**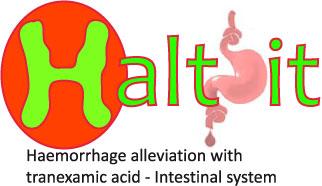 After many years of international collaboration, we are excited to be sharing the HALT-IT trial results with you.
Summary
We found that TXA did not reduce death from GI bleeding and that, in some cases, TXA increased the risk of thromboembolic events (clots in the veins of the legs that can move to the lungs). There were also more seizures with TXA.
These results are very important because they show that TXA does not have the same effect in all types of bleeding, and that patients with stomach bleeding may be more prone to side effects from unwanted clotting.
The results of HALT-IT mean that TXA should not be used for the routine treatment of GI bleeding, and have the potential to change medical practice.
Read the full publication in The Lancet here: https://www.thelancet.com/journals/lancet/article/PIIS0140-6736(20)30848-5/fulltext
What do the HALT-IT trial results mean for clinical practice moving forward?
Take a listen to The Resus Room's podcast, featuring an interview with the Clinical Trials Unit's Co-Director, Professor Ian Roberts:
https://theresusroom.co.uk/txa-in-gi-bleeds/
The podcast is also available on iTunes and Spotify.
iTunes: https://itunes.apple.com/gb/podcast/the-resus-room/id1090433226?mt=2‬ 
Spotify: https://open.spotify.com/show/4pGoo1XFnPZ4CKkoZ2DRum?si=uuxtPRkSR-2-O_AZpyNoEA
Professor Ian Roberts has also written an opinion piece regarding HALT-IT, please find it here on the LSHTM website: https://www.lshtm.ac.uk/newsevents/expert-opinion/need-evidence-we-can-trust-large-international-trial-finds-drug-used
For further details of the analyses performed in the trial, please take a look HERE at the HALT-IT Results Presentation.